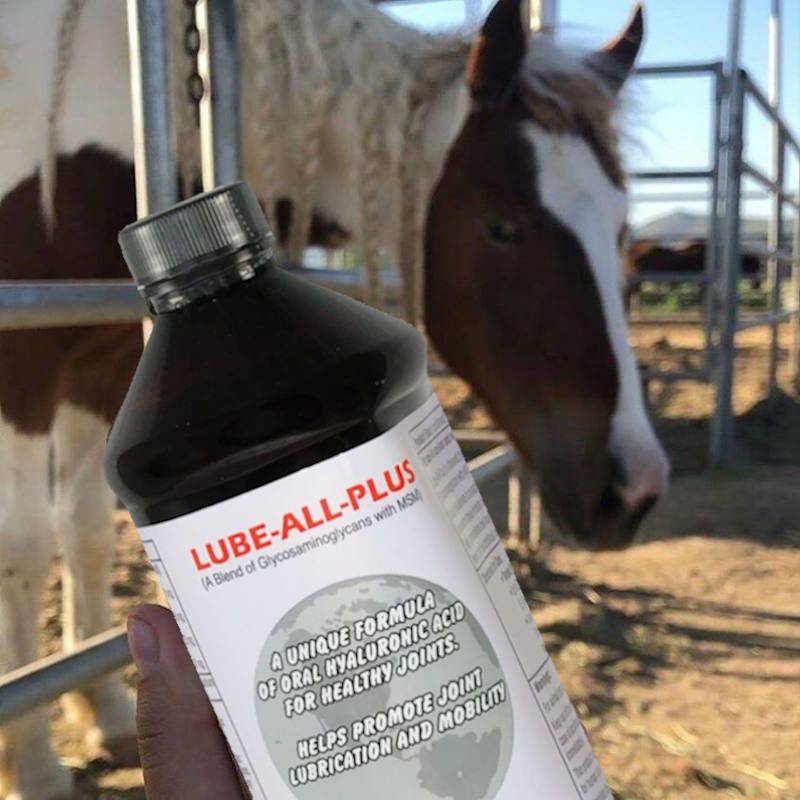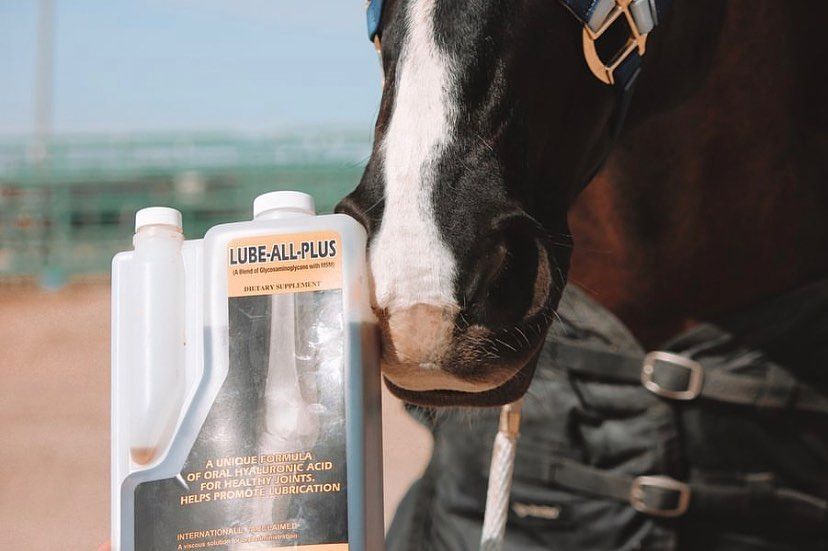 Equine joint supplements help horses move better.
Synovial joints, like the shoulder, elbow, knee, fetlock, pastern, hock, and stifle, are vulnerable to injury in high-performance and working horses. These high-motion joints in weight-bearing areas can become inflamed or arthritic from overuse and improper nutrition. That's why joint supplements for horses play a significant role in keeping a horse healthy.
To help support healthy joints and recovery from injury, Equiade developed Lube-All Plus, which contains the highest quality ingredients in a unique formula. Some of these ingredients that are backed by scientific research include:
MSM (methylsulfonylmethane) is a compound with antioxidant properties that helps reduce inflammation and inhibit cartilage breakdown.
HA (hyaluronic acid) is a natural component of synovial fluid. It helps lubricate joints, protects cartilage, and reduces joint inflammation and pain.
Glucosamine is naturally found in healthy joint cartilage and helps reduce inflammation.
Chondroitin works with glucosamine. It is a building block of cartilage that helps slow cartilage deterioration, relieves swelling, and reduces joint pain.
Keeping a horse in top-performing shape takes proactive management. That's one of the reasons why owners, trainers, and breeders rely on joint supplements for horses from Equiade. In fact, we at Equiade suggest starting your horse on a joint supplement before they show pain, swelling, and soreness.
Moreover, when you choose our products, you can feel confident that you are getting the best. That's because we test each one for safety and efficacy. And since they are all-natural, they test negative for competition.
All-natural support for your horse's joints.
Besides balanced nutrition, regular exercise, proper hoof care, and maintaining a healthy weight, joint support is essential for a horse's health and longevity. Joint inflammation from stress and overuse is one of the most commonly diagnosed injuries in sport horses.
Our Lube-All Plus joint supplement for horses helps your horse moving his best and provides proactive support for both young and older horses. Learn more information about product benefits (the biggest bottle doesn't always mean it will give the best results) and then order from our product line today.
"I have used Lube-All Plus on my race horse and have seen unbelievable results. I gave it to him everyday for the first 10 days and now just 3 days before a race. There was a marked improvement in my horse on the 3rd day!" M.J.